About Gene Getz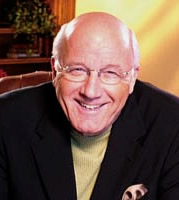 Dr. Gene Getz is a graduate of Moody Bible Institute, earned a BA from Rocky Mountain College, an MA from the Wheaton Graduate School and a Ph.D. from New York University. He has served as a professor at Moody Bible Institute and Dallas Theological Seminary.
After 20 years in the academic world, Gene became involved in church planting and, in 1972, launched the Fellowship Bible Church movement. Today, some 30,000 people worship in approximately 12 churches in the Dallas area alone and hundreds of Fellowship churches throughout the United States trace their roots back to Gene's church planting efforts in the Dallas area.
Gene is also a prolific author. Most of his 60 books have grown out of his experience as a pastor. "The Measure of a Man" has become a classic and is used around the world for personal and group study. He has authored "Elders and Leaders: God's Plan for Leading the Church" and he and his son, Kenton, have recently completed a book entitled "The Measure of a Young Man." He has also authored the "Men of Character" series published by Broadman and Holman. These books feature "Principles to Live By" that come from the lives of biblical personalities both in the Old and New Testaments.
Gene now serves as President of the Center for Church Renewal and has completed a 7-year Bible project using the Holman Christian Standard Bible. The "Life Essentials Study Bible" is the first Multi-Media Study Bible which contains 1,500 principles from Genesis to Revelation. Using QR codes associated with each biblical principle, the reader can access over 250 hours of video teaching on these principles by Dr. Getz. Gene also airs a 2-minute daily feature on numerous radio stations called "Bible Principles" which can also be accessed by going to www.Bibleprinciples.org where you'll also discover information about Gene's Life Essentials Study Bible.